Huawei three new smart TV products, S86 Pro
2022-07-18
&nbsp &nbsp

&nbsp &nbsp
Follow @huaweinewos
Tweet to @huaweinewos
Huawei will introduce its new products on July 27. The news of 3 new smart TV acquaintances has been heard, the Huawei S86 Pro model is one of these models. It also plans to launch a large number of new products, including laptops, tablet products, along with smart displays on July 27.
Huawei's new smart displays are equipped with the HarmonyOS 3 operating system. The new smart S86 Pro TV is equipped with a 4K 120Hz panel, its audio characteristics are reported to reach 610W, 4+64GB parameters. In addition, Huawei will also launch the second-generation smart display S55 and S65, equipped with Huawei's 410W sound system.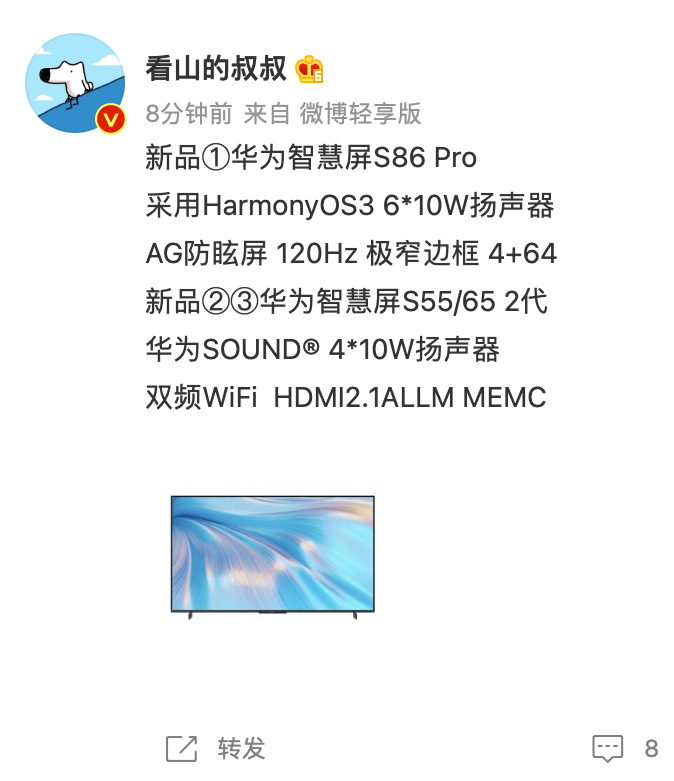 It is published on the internet that Huawei will also launch many new products on July 27, such as Free buds Pro 2 headphones, new MateBook X Pro notebook, new flagship tablet MatePad Pro 11 and Huawei Enjoy 50 Pro mobile phone.