Huawei, ZTE and 4 other manufacturers won the tender
2021-08-01
&nbsp &nbsp

&nbsp &nbsp
Follow @huaweinewos
Tweet to @huaweinewos
4 vendors, namely Huawei, ZTE, Datang Mobile and Ericsson, won the tender, and the China Telecom Unicom 2.1G 5G wireless main equipment center supply received 20 billion large orders. China Telecom and China Unicom have announced the winners of the tender for the 2021 5G SA construction project wireless main equipment (2.1G) joint center supply project. According to the announcement, a total of 5 bids were submitted for the tender for this project.
In March of this year, the Radio Regulation Bureau of the Ministry of Industry and Information Technology published the "2100MHz Frequency Band 5G Mobile Communication System Base Station Radio Frequency Technical Requirements (Trial)" announcement. This means that the "3.5G+2.1G" dual-band 5G strategy formulated by the two parties can be implemented fairly. It also means that the two parties can promote the world's largest TDD (200M) and FDD (2x40M). Collaborative spectrum innovation to maximize spectrum Benefits 4~5x improvement in uplink experience and 7~9dB deep coverage improvement.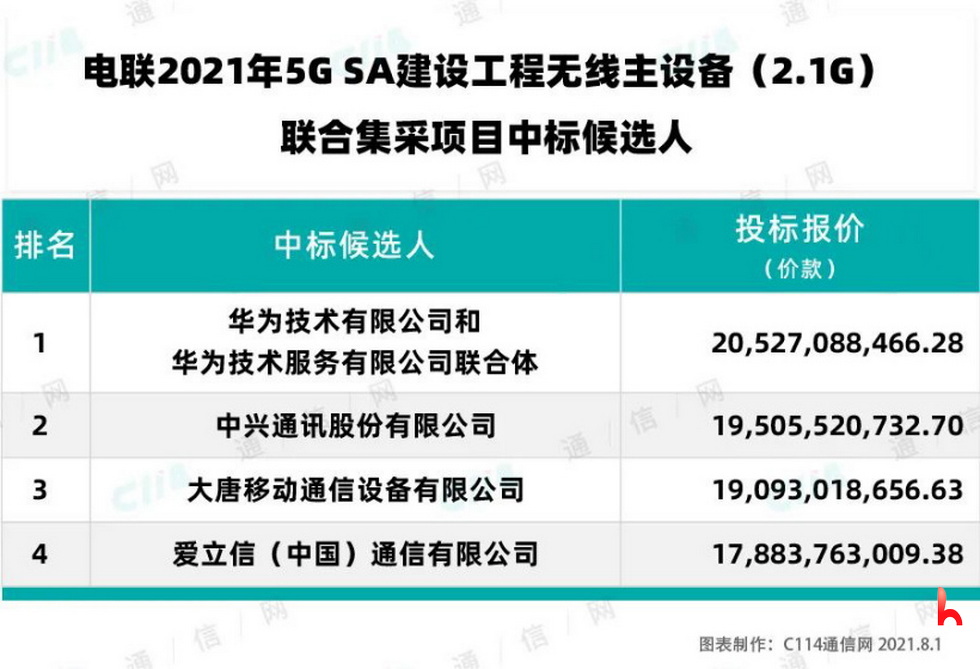 Before that, at the Ministry of Industry and Information Technology's on-site meeting on the large-scale development of 5G industry applications, Li Zhengmao, general manager of China Telecom, said that as of the end of July this year, China's Telecom and China Unicom's 5G shared base stations 478,000. Outdoor 5G signal coverage is basically continuous in urban areas and developed counties, as well as basic coverage in general counties and towns. It is estimated that the scale of 5G shared base stations will exceed 700,000 by the end of this year.