Comparison of HUAWEI MateBook 14s and MacBook Pro 13-inch model
2021-11-07
&nbsp &nbsp

&nbsp &nbsp
Follow @huaweinewos
Tweet to @huaweinewos
Whether to get the HUAWEI MateBook 14s laptop or the 13-inch MacBook Pro with the M1 chip. We share the article of the @flashfly team that made the comparison.
Technical specifications of HUAWEI MateBook 14s:
14.2 inch screen, FullView display design, 2.5K resolution (2520 x 1680 pixels), 10-point multi-touch screen, 1500:1 aspect ratio, maximum brightness 400 nits, supports 100% sRGB color gamut.
Screen refresh is 60 Hz by default and can switch to peak mode at 90 Hz.
11th Gen Intel Processor Core i7-11370H
Intel Iris Xe GPU
16GB LPDDR4x RAM
1TB SSD storage
720P HD resolution front camera
HUAWEI Sound 4 speakers, 4 microphones
Light sensor, fingerprint sensor and Hall sensor
Thunderbolt ports, USB-C, HDMI, USB-A and 3.5mm headphone/microphone connectors.
60Wh battery supports 65W fast charging
Windows 10 operating system with Huawei Share, HUAWEI PC Manager
Wi-Fi Connection IEEE 802.11a/b/g/n/ac/ax, 160 MHz
Bluetooth
Body size is 313.82mm x 229.76mm x 16.7mm.
Weight 1.43 kg
Color Spruce Green, Space Gray
MacBook Pro 13 inch specs, M1 :
13.3 inch LED-backlit display, 2560 x 1600 pixels, 500 nits brightness, wide color gamut (P3), True Tone technology.
Processor Apple M1 CPU 8 core GPU 8 core Neural Engine 16 core
8GB RAM
SSD storage in 256GB, 512GB, 1TB and 2TB capacities
720p FaceTime HD Camera
Stereo speakers with high dynamic range
2 Thunderbolt / USB 4 ports
60Wh battery supports 65W fast charging
macOS Monterey operating system
Wi‑Fi 6 802.11ax standard IEEE 802.11a/b/g/n/ac compliant
Bluetooth 5.0
Body size is 304.1mm x 212.4mm x 15.6mm.
Weight 1.4 kg
Color Silver, Space Gray
Display Features
The HUAWEI MateBook 14s comes with a 14.2 inch display like the HUAWEI FullView Display, ultra-thin bezels on 4 sides, a front camera setup that occupies 90% of the screen-to-body area, giving it a lively feel and hidden in the upper screen. Smooth, 2.5K resolution (2520 x 1680 pixels), 1500:1 aspect ratio, maximum brightness of 400 nits, complemented by 100% sRGB color gamut, can display 1.07 billion different color gamuts on the screen and is the closest to life offers color. -colors of life.
The 13-inch MacBook Pro is a 13.3-inch, LED-backlit display with 2560 x 1600 pixels, 500 nits of brightness, and the more popular Wide Color (P3) True Tone technology. it has a screen size of almost 1 inch smaller and the edges of the MateBook 14s' screen are thinner on all 4 sides.
Screen aspect ratio HUAWEI MateBook 14s has a 3:2 aspect ratio of the screen, providing more vertical space. You can read the content or get full entertainment It also comes with 90Hz refresh rate which will appear more smoothly and smoothly when scrolling the screen. While the MacBook Pro does not support touchscreens, it also supports 10-point multi-touch, adding more options and ease of use.
In addition, the HUAWEI MateBook 14s display has also been certified by TÜV Rheinland, including Low Blue Light, Blue Light Reduction and Flicker Free Certification. Flicker-free technology MateBook 14s detects ambient light during use. and adjust the screen brightness appropriately. This feature will help protect the eyes for users who sit in front of the computer screen for a long time.
Connection Input-Output Locations
HUAWEI MateBook 14s comes with quite a number of ports. The MacBook Pro only has two Thunderbolt/USB 4 ports and a headphone/microphone connector, while Thunderbolt, USB-C, HDMI, USB-A, and a 3.5mm headphone/microphone connector are available. Only 3.5mm is provided If you want to use it on a display or flash drive, you must purchase an accessory such as a USB-C Hub to use it.
Keyboard keys and features
HUAWEI MateBook 14s features a redesigned keyboard with a depth of 1.5mm, rubber domed keys and mechanical scissor-style interior keys, Fn and hot keys on the top row, and Fingerprint Power button. The button can log into the device with just one fingerprint. While the MacBook Pro is a 1mm deep Magic Keyboard or scissor type mechanical keyboard, it comes with a Touch Bar on the top along with a Touch ID button to unlock the device, providing various security.
In use, the MacBook Pro's keyboard uses slightly less pressure, while the HUAWEI MateBook 14s has a deeper keystroke. so using a little more pressure. but feel the softness of the buttons more but really put It makes almost no difference to the information.
As for the trackpad, the MacBook Pro is noticeably larger than the HUAWEI MateBook 14s. and it has firmness or less pressure It also has the same amount of pressure across the trackpad, while the HUAWEI MateBook 14s has a greater amount of pressure below the trackpad. Both are suitable substitutes for the mouse.
Processor chips
In terms of processors, both models use different chips. The HUAWEI MateBook 14s is equipped with the Intel Core i7-11370H chipset and the Intel Iris Xe, which has a test score compared to the MacBook Pro's Apple M1. Unrivaled performance But enough to work and play is considered strong. This is because Intel H-Series processors are often used in dedicated gaming PCs. But it was placed on the HUAWEI MateBook 14s.
The HUAWEI MateBook 14s comes with up to 16GB of dual-channel LPDDR4x memory and up to 1TB of storage, while the MacBook Pro has up to 16GB of memory and up to 2TB of storage. The price of the highest tuning is higher than the MateBook will be. 14h.
HUAWEI MateBook MateBook 14s (16GB+1TB) price 55,990 baht
MacBook Pro 13-inch M1 chip (16GB+1TB) price 63,900 baht
Sound system
HUAWEI MateBook 14s is equipped with HUAWEI SOUND sound, an algorithm designed to provide a surround sound experience through four internal speakers, including two low-fidelity speakers delivering frequencies up to 15 KHz and a high-output speaker. treble relays increase clarity and details of the sound will be placed relative to its position on the left and right sides of the Grille. The MacBook Pro's sound system is stereo speakers with high dynamic range.
As far as I've tried using them, I must say they both sound good, but the HUAWEI MateBook 14s will sound tighter. With 4 built-in speakers, you can hear the sound clearly and fully while watching movies or playing games.
Battery Specifications
The HUAWEI MateBook 14s comes with a 60Wh battery with 65W HUAWEI SuperCharge support, while the 58.2Wh battery of the MacBook Pro and a 61W USB-C power adapter that is slightly superior to the HUAWEI MateBook 14s. and the adapter will be smaller more portable but really use it depends on the nature of each person's use.
Special features
HUAWEI MateBook 14s remains seamlessly connected to HUAWEI smartphones and tablets as always. By bringing the smartphone to the touchpad That's it, you can now connect to view the smartphone screen on your laptop. The laptop will support smartphones on the operating system EMUI 10.1 or higher, up to 3 applications, send files, receive calls – make calls. including unlocking smartphones via laptops, simply touch the Device together.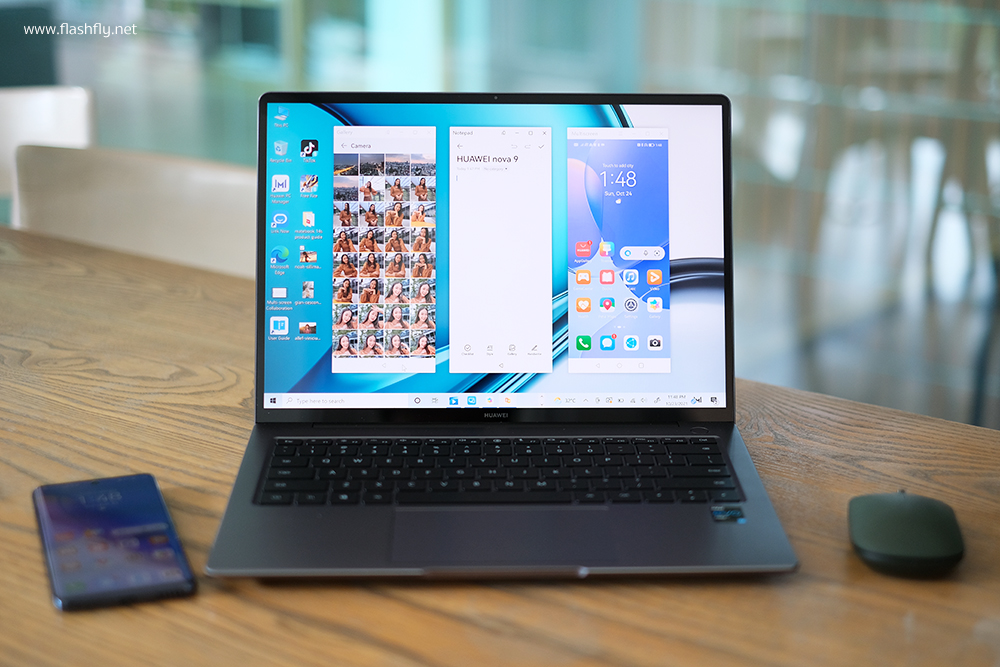 Including the HUAWEI MobileApp Engine, which allows users to access their favorite smartphone apps directly from their laptop. Whether it's LINE, Shopee, TikTok or various mobile games, simply download from HUAWEI AppGallery on laptop. For added convenience to users, MacBook Pro will also have the advantage of cloud syncing over Apple's main apps such as Notes, Contacts and receive incoming calls from iPhone. The device will also be able to send files wirelessly between devices with AirDrops. also installed on the device.
HUAWEI MateBook 14s vs MacBook Pro, 13-inch model, M1 chip, which model to buy?
HUAWEI MateBook 14s and 13-inch MacBook Pro model, M1 chip, "which model to buy?" I must say that apart from the visible features, it is not much different. Each model will have different strengths. In terms of design, both are beautiful. And with a similar price, the HUAWEI MateBook 14s will have the same 1TB capacity at a cheaper price, we'll have to see what operating system it will use. Because each operating system has different limitations.
If you work with colleagues who mostly use Windows and also focus on games. You should choose the HUAWEI MateBook 14s as the provided features are extensive for use. Whether it's a document job or an editing job. Also, the device has more ports to use. You don't need to carry a lot of peripheral accessories. Also, if you are using a HUAWEI smartphone, use the HUAWEI MobileApp Engine to download mobile apps to make it easier to use or to use together. It is also more convenient to use with a touch screen.
For those who don't focus much on working with Windows and rarely play games (because there aren't many popular games to play on macOS), as well as those who use an iPhone or other Apple device with an easy-to-use operating system, Apple's 13-inch MacBook Pro option with M1 chip looks interesting too. . and has a thinner body But the screen is also smaller.
source: flashfly.net