Huawei Electric Toothbrush price and features, Huawei HiLink LEBOOO
2020-12-27
&nbsp &nbsp

&nbsp &nbsp
Follow @huaweinewos
Tweet to @huaweinewos
Huawei puts the electric toothbrush on sale. 76% of the users who used electric toothbrushes with normal toothbrushes chose the electric toothbrush. Scientifically, electric toothbrushes have proven to be more efficient in cleaning the mouth and cleaning bacteria.
The Huawei HiLink LEBOO Electric Toothbrush currently released in the UK costs £ 49.99 ($ ​​66). We expect it to go on sale in other regions and countries.
You can integrate the Huawei HiLink LEBOO Electric Toothbrush into your smartphone. You can connect your smartphone with the Huawei Smart Life APP and see the HUAWEI HiLink LEBOOO Electric Toothbrush, 16 edges of the 6 areas in the oral cavity visually from your phone.
While brushing your teeth, it checks the designated areas, can monitor the brushing areas, intelligently evaluate the pressure and the strength of the posture for thorough and complete cleaning. Throughout the brushing process, it can effectively improve tooth brushing cleaning with audible warnings.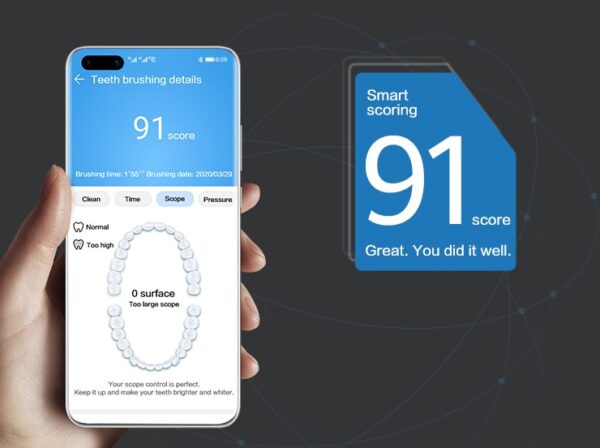 With the Huawei Smart Life APP, you can see your data for the last 30 days and 60 days. Huawei HiLink LEBOO magnetic suspension delivers 38000 vibrations per minute. Magnetic vibration increases the cleaning power, helps water flow, brushes yellow tooth stains well, and cleans and refreshes the mouth thoroughly.
There are 36 personalized dental cleaning programs. Child, elderly, pregnant etc. cleaning programs. In addition, cleaning, polishing, whitening, sensitive etc. modes are available.
Battery life is quite long. Supports 90-day battery life. Supports wireless fast charging technology, which automatically recharges when you release the outer brush. It can be fully charged in 8 hours.
Those who want to buy from the UK can be purchased at Huawei online stores.