Huawei EMUI 12 Models and EMUI 12 Features
2021-11-01
&nbsp &nbsp

&nbsp &nbsp
Follow @huaweinewos
Tweet to @huaweinewos
Huawei has announced the list of models that will receive the EMUI 12 update in the first half of 2022. It recently introduced the nova 9 launch and the major update, EMIUI 12. At the APAC Fall Product Launch event a few days ago, the company confirmed the list of devices that will receive updates in the first half of 2022. New features are coming in EMIUI 12.
EMUI 12 features: Natural Movements: Utilizing realistic gravity and magnet motion design that mimics how celestial bodies move in the universe, every interaction looks much smoother and more vibrant as it should.
Control Shortcut: Swipe to open the Control Panel and get quick access to audio playback, Wi-Fi and Bluetooth settings without leaving your current screen.
Minimalist and Realistic: Innovative interface design brings the digital world to life. Finely tuned gradients create a real sense of depth on the screen, while the simple black, white and blue color format offers a clean and elegant look.
Device+ Smart Collaboration: Tap the MatePad icon to enable Multi-Screen Collaboration with Matepad. Make calls, send messages and check photos on the tablet screen from your phone. Tap the Vision icon to set HUAWEI Vision as your phone's screen and enjoy watching videos on the big screen. Tap the Headset icon again to listen to the audio of the video with Freebuds, so you can enjoy the content without disturbing others.
Flexible Font Weight Adjustment: EMUI 12 supports stepless weight adjustment, which allows you to adjust the size and weight of the font with a slider to satisfy your reading habits with a comfortable viewing experience.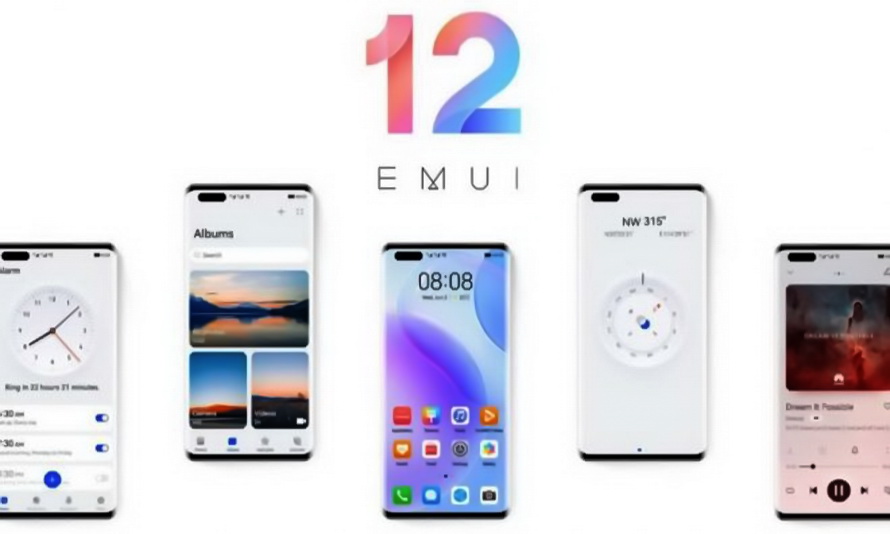 MeeTime: Seamlessly transfer video calls made on your phone to HUAWEI Vision using the MeeTime Video Call Transfer feature and slide the call back to your phone as you wish.
Access the Files You Want Easier Than Ever: With the new Distributed File System, you can instantly access your phone documents or photos as easily as accessing any other disk drive on your laptop. Turn on, view and enjoy without a single cable.
Privacy Protection: You can enter the password to unlock your phone from your laptop when using Multi-Screen Collaboration. For extra protection, set your watch as a trusted device of your phone. With Face Unlock, you can unlock the phone only when they are connected.
More Security: Fast and Long-Term Performance With EMUI 12, you can experience a faster digital life. Web pages and apps load as you scroll. You can return to the same page the next time you load it. Even after prolonged use, transaction response and app launch work smoothly as usual.
Models to Receive Huawei EMUI 12
Huawei Mate 40 Pro
Huawei P40 Pro+
Huawei P40 Pro
Huawei P40
Huawei Mate Xs
Huawei Mate 30 Pro
Huawei Mate 30
Huawei P30 Pro
Huawei P30
Huawei Mate 20 Pro
Huawei Mate 20 RS
Huawei Mate 20 X 5G
Huawei Mate 20 X
Huawei Mate 20
Huawei P20 Pro
Huawei P20
Huawei Mate 10 Porsche Design
Huawei Mate 10 Pro
Huawei Mate 10
Huawei nova 7
Huawei nova 7 SE
Huawei nova 7i
Huawei nova 5T
Huawei nova 4
Huawei nova 4e
Huawei Y9 Prime 2019
Huawei Y9s
Huawei Y8p