Huawei joins the production of the world's first gigawatt-hour (GWh) sodium-ion battery
2022-12-01
&nbsp &nbsp

&nbsp &nbsp
Follow @huaweinewos
Tweet to @huaweinewos
On the morning of November 29, the world's first gigawatt-hour (GWh) sodium-ion battery production line product handover ceremony was held in Fuyang City. , Anhui Province . The production line is the gradual result of in-depth cooperation between Three Gorges Capital, Anhui Province, Fuyang City People's Government, and Zhongke Haina, a subsidiary of Three Gorges Energy and Three Gorges Corporation.
According to reports, the product's going offline indicates that the production line is officially capable of producing gigawatt-hour sodium-ion batteries on a large scale, a milestone in the development of new avenues in the energy storage industry. and the industrialization of sodium-ion batteries.
IT Home learned that in December 2021, Three Gorges Energy, Three Gorges Capital, Fuyang City People's Government, Anhui Province and Zhongke Haina have reached a cooperation intention to install the world's first large-scale gigawatt-hour sodium mass production line. Ion batteries in Fuyang City and sign an agreement. A year later, the product was officially launched.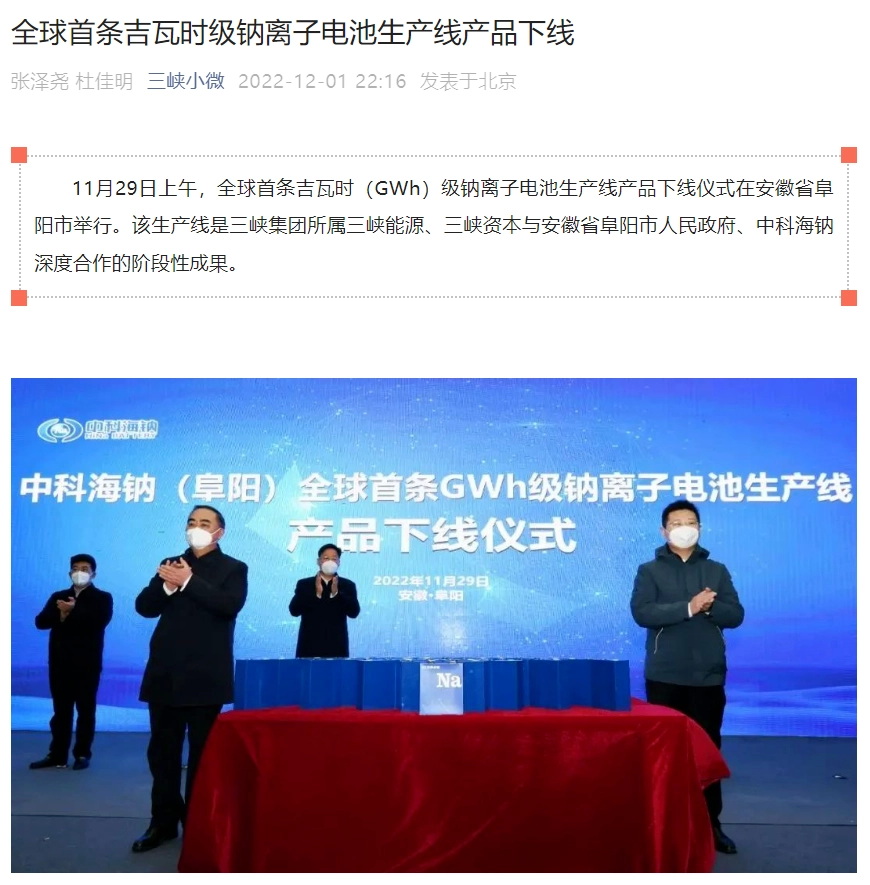 In April of this year, Huawei's Shenzhen Hubble Technology Investment Trust (Limited Partnership) ("Shenzhen Hubble") also began using sodium-ion batteries by investing in Zhongke Haina, the company that manufactures the production line.
At present, the industry is actively using the research and development of sodium-ion batteries. CATL officially launched the first generation sodium-ion batteries with an energy density of 160Wh/kg in July of this year. The chain will be formed in 2023 . Huang Qisen, deputy director of the Ningde Times Research Institute, said that in terms of passenger car applications, sodium-ion batteries can generally meet the needs of models with a battery life of less than 400 kilometers and are expected to expand into a wider model. 500 kilometers of battery life.
The National Development and Reform Commission and the National Energy Administration also released the "14th Five-Year Plan" New Energy Storage Development Implementation Plan this year, which proposes to encourage the development of diversified technologies. Conducting research on key core technologies, equipment and integrated optimization design for sodium-ion batteries, new lithium-ion batteries, lead-carbon batteries, liquid flow batteries, compressed air, hydrogen (ammonia) energy storage, thermal (cold) energy storage, etc. .
Chinese Academy of Engineering academician Chen Liquan said at the recently held sodium ion battery industry chain and standard development forum, the current sodium ion battery is still in the promotion period. With the development of the industrial chain, the improvement of technology maturity and scale effect, the cost of sodium-ion batteries lithium iron phosphate It is expected to be less than 20% lower than that of batteries, creating favorable conditions for the large-scale introduction of sodium-ion batteries.
Academician Chen Liquan noted that lithium batteries are currently the best secondary batteries, but due to limited lithium resources, they cannot meet the needs of electric vehicles and electric energy storage at the same time. Sodium-ion batteries will definitely be the next-generation low-cost battery. -fast electric vehicles and energy storage batteries.
Source: ithome