Huawei, the intelligent data center "FusionModule 800"
2019-11-07
&nbsp &nbsp

&nbsp &nbsp
Follow @huaweinewos
Tweet to @huaweinewos
FusionModule 800 meets the needs of enterprises with processing power of up to 15 KW. Air conditioning, UPS and Monitoring system. Save time, space and energy.

79/5000UPS set up, monitor and cool, PDU in cabinet, occupies space in a small space.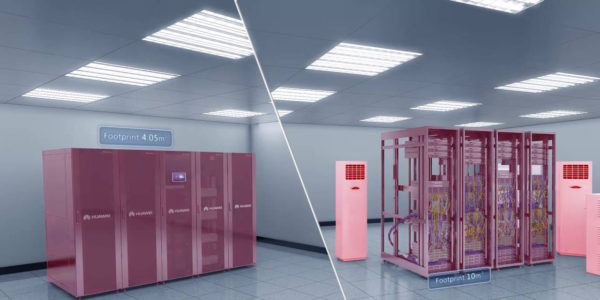 Huawei FusionModule 800 offers UPS, air conditioner, PDU media monitoring and electricity distribution control connected to data center, mobile application, SMS alarm and remote monitoring feature. The space-saving and cost-saving system with single or backup cooling, inverter cooling and cold aisle shutdown and power utilization efficiency (PUE) stands out in 1.37.
The mobile application provides centralized monitoring and unified management of remote web platforms, multiple modules, unattended Operation and Maintenance and local 10-inch widescreen for short message service (SMS) alarms.
The perfect solution for small and medium-sized companies.
Huawei offers everything.
FusionModule 800 Specifications
Dimensions: Single row cold / hot corridor coverage: L x 2000 mm x 1350 mm U: 600 n (n = 1-8) mm
Number of Cabins in Single Module: Single row: ≤ 8 (Number of BT cabins: 0 to 6)
ICT Total Load: ≤15kW
Single Cabinet Power Density: 7 kW / shelf
Input Power: 380V (3Ph, 50 / 60Hz)
Reliability: Tier I or Tier II
Altitude: 0 m to 4000 m (reduced over 1000 m)
Installation Methods: Can be installed directly on concrete or raised floor
Cooling: air conditioning (11kW / pcs)
Power Backup Mode: Battery cabinet, battery pack, or battery rack
FusionModule800 Smart Small Data Center datasheet