Protected Content in Groups and Channels update has arrived in Telegram
2021-12-09
&nbsp &nbsp

&nbsp &nbsp
Follow @huaweinewos
Tweet to @huaweinewos
Telegram new update brings protected content to groups and channels. So what are the details of this update? We share the details below.
Telegram new update helps creators protect the content they post on Telegram and ensure that the content is only available to their target audience. Group and Channel owners who want to keep their content available to members only can restrict message forwarding from their chats, which blocks screenshots and limits saving media from posts.
"To change users' ability to forward messages, enable the Restrict Recording Content option from the Group or Channel Information page > Group / Channel Type."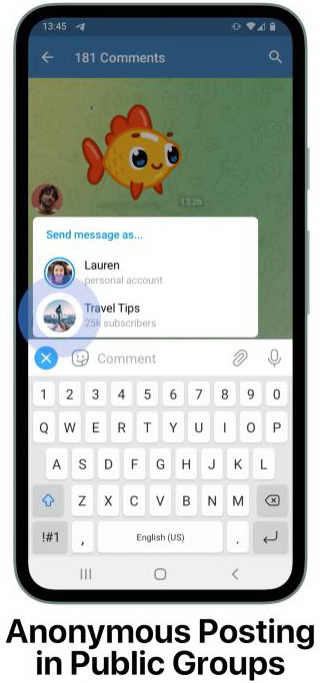 Delete Messages by Date
Telegram users have full control over their digital footprints and can delete any message from a conversation at any time. With this update, you can clear the chat history of any one-on-one chat for a specific day or time period. To open the calendar, tap the date bar that pops up while navigating the chat, then choose which days to clear.
Manage Connected Devices
You can use Telegram on all your devices at the same time. The Devices menu helps you control where to sign in with your account. Added a new button to quickly connect a desktop device and a setting to automatically log out of inactive devices after a while. Tap any device in the list to view more information and change whether it can accept calls or new Secret Chats.
Anonymous Posting in Public Groups
Public Groups and Channel Comments allow discussion of any topic in large communities with thousands of members. These groups are used for everything from defending democracy to chatting with fans, so we added the ability to appear as channels when sending messages in these chats. Tap the profile picture next to the message bar and choose one of your channels. From now on, the messages you send will appear with the name of the channel and the photo of the channel instead of your personal account. When posting as your channel, you'll also see the channel name at the top of your message bubbles.
Source: The Telegram Team