What does WhatsApp's new privacy policy mean? WhatsApp alternative programs
2021-01-09
&nbsp &nbsp

&nbsp &nbsp
Follow @huaweinewos
Tweet to @huaweinewos
On our huaweinewos.com page, we try not to provide information other than Huawei news. But we want to write brief information about WhatsApp's new privacy policy. WhatsApp is determined to enforce its new privacy policy, although it has caused many users to react. It would be great news if the Huawei company developed an alternative program to WhatsApp.
WhatsApp's new privacy policy includes: Access to everything from phone numbers, mobile device information and IP addresses to diagnostic data, profile pictures and names. It will even allow it to collect information about your phone's hardware, such as battery level and service status.
And he writes that he can share this information not only with Facebook, but with third-party service providers. The statement reads: The policy states that "businesses might be working with third-party service providers (which may include Facebook) to help manage their communications with their customers". It is recommended that users stop interacting with their work accounts if they choose not to share their information with them.
"We collect device and connection-specific information when you install, access or use our services. This includes hardware model, operating system information, battery level, signal strength, application version, browser information, mobile network, connection information (including phone number, mobile operator or ISP) Includes information such as language and time zone, IP address, device operations, information and identifiers, "said WhatsApp in a statement.
The policy will also allow you to share your interactions with a business account on WhatsApp with "a few people at that business." WhatsApp is said to be aiming to make money commercially with this policy. But do you think it is true that it reaches so much personal data?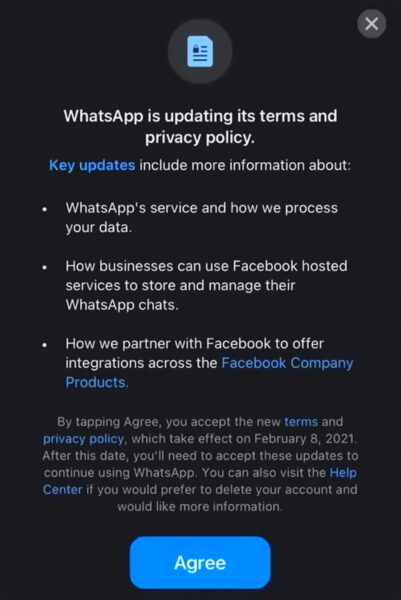 Right now, when you open WhatsApp, it is only seen as a warning, the user can close the warning without confirming it, but we will ask you to accept the policy on Monday, February 8, 2021. "After this date, you will need to accept these updates to continue using WhatsApp," he writes, adding that users can visit the app's Help Center if they choose to have their account deleted.
Celebrities like Elon Musk and Edward Snowden reacted to what WhatsApp did by recommending alternative programs.
What WhatsApp has done is very wrong in our opinion. Nowadays, when personal data is very important, it is sad that people want to ask for their personal data and use it in a way we never knew. For those who do not wish to accept WhatsApp policies, we ask them to review alternative programs. For example, Elon Musk recommends the program "Signal",
WhatsApp alternative programs: