Biden signs new order to review foreign investment in US chips
2022-09-18
&nbsp &nbsp

&nbsp &nbsp
Follow @huaweinewos
Tweet to @huaweinewos
US President Joe Biden on Thursday signed an executive order that raised Washington's national security concerns as he reviewed foreign investment in key industries such as semiconductors. The order directs the Committee on Foreign Investments in the United States (CFIUS) to assess the impact of any foreign transaction in four areas to better align the committee with the Biden administration's national security priorities: critical supply chain resilience, technology leadership, cybersecurity and sensitive personal data.
It also requires CFIUS to consider foreign transactions in the context of investment trends that could threaten national security, such as the acquisition of multiple companies in a single industry segment. According to the White House fact sheet, areas listed as affecting US national security include microelectronics, artificial intelligence, quantum computing, biotechnology and advanced clean energy.
A senior U.S. administration official said the new executive order is part of the U.S. government's efforts to protect the U.S. economy and technology because some countries are using the U.S. open investment ecosystem to advance their issues in ways that are directly contrary to U.S. values. and interests, leadership is an important part of efforts to protect US national security.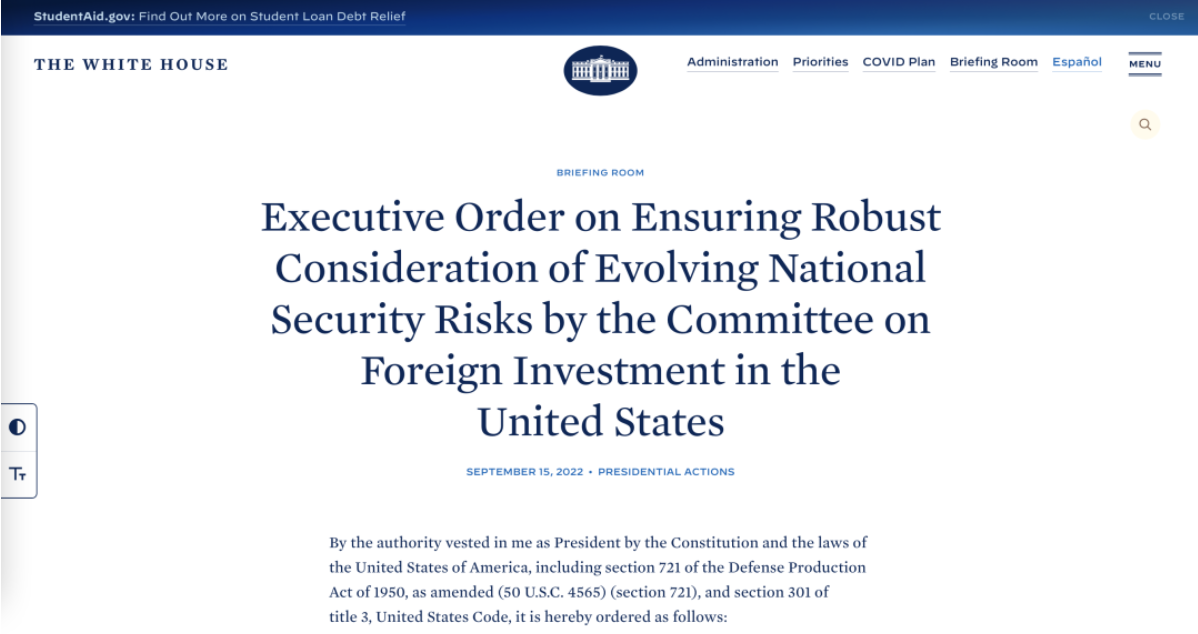 The executive order details two existing legal factors:
Certain transactions, including non-defense transactions, may have an impact on the US national security supply chain.
The transfer of ownership or control by foreign investors of certain production capabilities, services, critical mineral resources, or technologies critical to national security to foreigners may leave the United States vulnerable to future disruptions in the supply of critical goods and services.
Certain transactions will affect the United States' technological leadership in national security.
Semiconductors, artificial intelligence, biotechnology, quantum computing, advanced clean energy, etc. While technologies, including but not limited to, help foreign investment stimulate local innovation in the United States in many cases, it is more important to protect the United States. technological leadership.
The executive order identifies three other factors that the committee should consider:
Certain transactions may affect industry investment trends regarding US national security.
Individually, foreign investment in an industry or technology poses a limited threat, but these investments from previous transactions can facilitate the transfer of sensitive technology in key industries or other areas and further endanger U.S. National Security.
Threats to national security-related cybersecurity risks.
This is because investments by foreigners with the ability and intent to engage in a cyberattack or other malicious cyber activity can pose a risk to national security.
This provision should consider the cybersecurity stance, capabilities and access rights of the parties, as well as assess whether the covered transactions could provide foreign persons or interested third parties with an opportunity to engage in such activities.
Risks associated with sensitive data of Americans.
Data is an increasingly powerful tool that can be used to spy on, track, and locate individuals or groups that have adverse effects on US national security. Additionally, technological advances have made it possible to re-identify or anonymize more and more data that was once unidentifiable.
The senior management official, who has not been named, said these issues are the continuing focus of CFIUS and that steps are being taken to address such risks, and executive orders have been signed to underline and strengthen the committee's commitment to these evolving and emerging issues. and steering committees, companies and investors pre-identify the national security risks arising from transactions to help them decide whether or not to apply for CFIUS.
This executive order does not extend or limit the legal authority or jurisdiction of CFIUS, which continues to focus broadly on the assessment and mitigation of any national security risks arising from the transactions covered. "This is the biggest point that can have a real impact on how deals are evaluated [in the executive order]," said Sarah Bauerle Danzman, associate professor of international studies at Indiana University and a former foreign investment analyst at the U.S. Department of State. .
"The Commission takes very seriously the wording in the statute regarding conditions that prevent or mitigate transactions," he said.
The order does not change or expand the legal mandate of the CFIUS, but Bauerle Danzman said he was concerned that expanding the category of technologies with national security implications could result in the review process being misused for competitive purposes, not just national security.
"I hope the committee continues to act with relative restraint and not overstate its mandate to block all such deals," he said. While China is not named this time, the areas targeted by the order overlap with some of the US national security concerns raised about Beijing's technological ambitions.
The Biden administration's efforts to protect US technology have also prompted the Commerce Department, which has recently tightened restrictions on Chinese chip exports. The Chinese side condemned it. "The US approach deviates from the principle of fair competition and violates international economic and trade rules," said Shu Jueting, spokesperson for the Department of Commerce.
A senior Biden administration official stressed that the new executive order does not target China. "There is nothing specific to China about this order or CFIUS. Now having said that, it will matter where the investment comes from and who the investors are," the official said on Wednesday.
Sarah Bauerle Danzman said: "People are not only concerned about the real players trying to buy the company, but also about the possibility of third-party risk." For example, companies that do not pose a risk themselves can be flagged if their cybersecurity practices are breached.
"It's wrong to think there's only one China," she said.
This is the first time since the CFIUS was founded in 1975, the president has issued specific instructions to the CFIUS from various US federal departments and agencies that review foreign investment for national security concerns.
The White House said the executive action was aimed at increasing the focus of CFIUS and communicating with foreign investors about its priorities and concerns. Emily Kilcrease, who works at the Office of the U.S. Trade Representative and CFIUS, said the CFIUS assessment could be a covert black box for parties under review who don't know the confidential information the government uses to make decisions.
Outlining new priorities in the executive order can alleviate some of this disconnect, especially for new focus areas such as climate-related technologies.
source: eeworld