Canadian Prime Minister Justin Trudeau says we can ban Huawei 5G
2021-09-29
&nbsp &nbsp

&nbsp &nbsp
Follow @huaweinewos
Tweet to @huaweinewos
Canadian Prime Minister Trudeau made a statement after Huawei wanted to lay off workers, close stores and block 5G devices in Canada. It seems like the problems between Huawei and Canada will get bigger. The Canadian prime minister said that Huawei 5G could be banned. Already Huawei Canada has said that it may stop working on 5G. Now the Canadian prime minister is considering a counterattack from Huawei. But huawei had already made its move.
After Meng Wanzhou's release, Canadian Prime Minister Justin Trudeau said: Canada will decide "in the coming weeks" whether to ban Huawei's 5G equipment. (Reuters)
In the report, it was stated that the Canadian government is investigating whether the use of Huawei's 5G equipment should be banned for three years, like other member countries of the "Five Eyes Alliance".
Reuters said that Canada has so far said it is waiting for a final decision from its intelligence agencies. "We've seen many, if not all, Canadian telecommunications companies start removing Huawei from their networks," Canadian Prime Minister Trudeau claimed.
When asked about Huawei's decision, Trudeau told reporters, "We will continue to evaluate and examine different options, but there is no doubt that we will make an announcement in the next few weeks." Reuters said this was his first press conference since he was re-elected last week.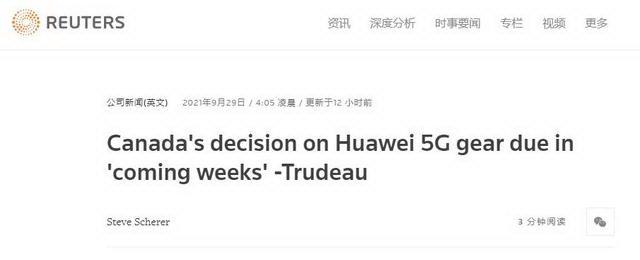 Reuters believes Canada is unlikely to make a decision before a new government is formed. Trudeau said on the 28th that the new cabinet would be sworn in next month, but did not give a date.
The Canadian government, which arrested Meng Wanzhou by the decision of the USA, showed that it could not be impartial. Now he's trying to act like he's right. but we know that the USA makes the real decisions.