Huawei and Industry Partners Jointly Unveil the Edge Native Technical Architecture White Paper 1.0
2021-02-26
&nbsp &nbsp

&nbsp &nbsp
Follow @huaweinewos
Tweet to @huaweinewos
Huawei and industry partners have today released the Edge Native Technical Architecture White Paper 1.0 at the Multi-access Edge Computing Summit, which took place during MWC Shanghai 2021. This white paper introduces the concept, technical architecture, and industry practices of Edge Native, aiming to promote the development of Edge Native technologies and help industries unlock the disruptive potential of edge computing. Representatives who attended the ceremony include Jason Dai (President of Strategy & Business Development Dept of Huawei Cloud Core Network Product Line and 5GDNA Chairman), Bill Ren (EdgeGallery Board Chairman), and Yu Xiaohui (AII Director General and ECC Deputy Director-General).
Edge computing was highlighted as one of the top 10 strategic technology trends for 2020 by Gartner and IEEE, and was recognized as one of the top 10 cutting-edge information technologies by the Chinese Academy of Sciences and the Chinese Academy of Engineering. In addition, CB Insights estimates that the total value of the global edge computing market will reach US$34 billion by 2023. Despite this, numerous challenges lie ahead on the road to effectively pairing edge computing with cloud-based technologies. For example, an edge-cloud collaborative architecture must be defined to facilitate network deployment, device enhancement, and software engineering. Edge Native offers the necessary capabilities to address such challenges. Since it was first revealed, Edge Native has garnered significant attention from a diverse range of industries, and has been recognized as a key driving force for service innovation and market growth.
As introduced in the white paper, Edge Native serves as a complement to Cloud Native. As the ICT industry moves ever more services towards the network edge, Cloud Native, which is only ideal for centralized, large-scale data center deployment, encounters problems relating to resource allocation, network security, as well as the customization, and O&M of edge nodes. However, all of these problems can be efficiently tackled by Edge Native which combines connectivity and enhanced computing power for lightweight edge networks.
The white paper explains ten Edge Native technologies — EdgeInfra, EdgeNetwork, EdgeOrchestrator, EdgeCollaboration, EdgeAI, EdgeSecurity, EdgeMesh, EdgeData, EdgeFramework, and EdgeDevSecOps. Together, these technologies will create the momentum required to strengthen 5G infrastructure and fast track industry digitalization. The informative paper provides valuable technical references for industries seeking to promote Edge Native, and offers inspiration for edge computing applications.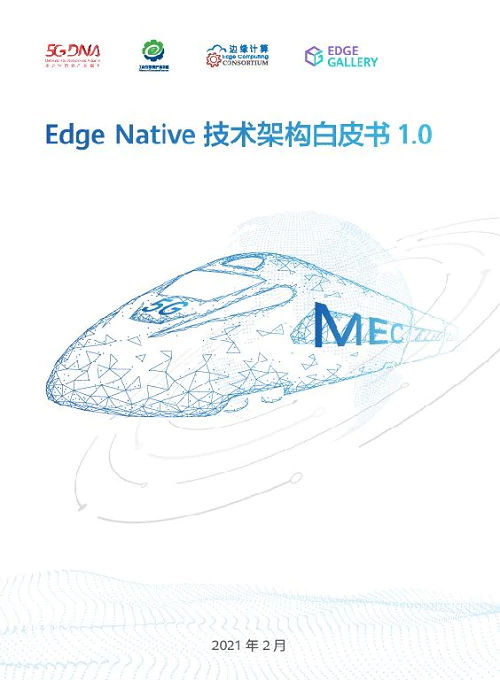 The white paper is based on both theoretical and practical research, drawing on the best practices of Edge Native in different industries. With its strong connectivity and computing capabilities, Edge Native perfectly meets the industry requirements for large-bandwidth pipelines, low-latency data transmission, real-time man-machine interactions, and rock-solid data security. For example, Huawei helped Haier integrate Edge Native with its edge computing service platform, enabling the construction of a Haier smart factory where industrial cameras, GPUs, PLCs, and robotic arms operate over wireless connections and collaborate in a concerted manner, significantly reducing costs and effectively improving product quality. Additionally, DALU Robotech cooperated with EdgeGallery, a MEC open source community founded by Huawei and industry partners with Edge Native promotion as a key initiative, and together the two parties have made a series of advanced functions possible, including real-time human-robot interactions based on big data analytics, intelligent video data analysis, and behavior identification.
However, Edge Native has yet to achieve maturity, and its potential remains largely untapped. Huawei will work with all other industry chain participants, including operators, industry customers, communications equipment vendors, and developers, to continue to promote the research and practice of Edge Native in different industries, extract greater business value from it, and elevate industry digitalization to new heights.
MWC Shanghai 2021 runs from February 23 to February 25 in Shanghai, China. Huawei showcases its products and solutions at booths E10, E50, and E90 in Hall N1 of the Shanghai New International Expo Centre (SNIEC). For more information, please visit https://carrier.huawei.com/en/events/mwcs2021
source: huawei