Huawei FreeBuds Lite Review
2020-12-07
&nbsp &nbsp

&nbsp &nbsp
Follow @huaweinewos
Tweet to @huaweinewos
FreeBuds Lite looks a bit like Apple AirPods in design, with a body that goes down. It fits comfortably in the ear. There are different silicone caps for the ear. Silicone caps are comfortable and very comfortable.
FreeBuds Lite weighs 45 grams with its box and case. The headphones weigh 5.5 grams.
To pair FreeBuds Lite with the smartphone, press and hold the tiny button on the back for 2 seconds and it starts pairing mode. After pairing, automatic matching is saved.
FreeBuds Lite is available in white and black color models. Colors are priced differently according to the regions. It has a cheaper price than Apple AirPods and Samsung Galaxy Buds. It is important that it is cheap and high quality.
FreeBuds Lite has a proximity sensor. When you take the headset off your ear, the proximity sensor automatically stops the music. Left and right earphones are touch-enabled. Left earbud activates Google Assistant and Siri. The right earbud can control the music.
It has 7mm titanium coated dynamic drivers and produces good sound. It gives a very high quality sound within the category in mid sounds. It provides a clear interaction at high volume.
FreeBuds Lite can be used in the gym or in the rain. There is a noise canceling microphone. It has IPX4 certification and AAC support.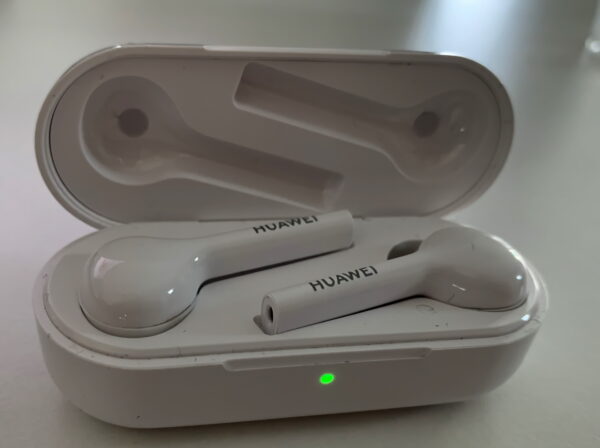 It offers 3 hours of use before putting it in the charging case and 12 hours of use in the case. The charging time of the headset is also 1 hour at full capacity. Fast charging can be used for 1.5 hours with a 15-minute charge.
If you love wireless headphones Price is very good in sound performance and quality comparison.
Smartphones have the FreeBuds Lite application. There are shortcomings in the application, but we hope Huawei will improve it by making new updates.