Huawei nova 8 SE image released
2020-11-03
&nbsp &nbsp

&nbsp &nbsp
Follow @huaweinewos
Tweet to @huaweinewos
The official image of the Huawei nova 8 SE has been released and the pre-order date has been announced. Huawei Mate 40 series was introduced, now let's get to know the new model Huawei nova 8 SE.
Huawei will open the new PHONE nova 8 SE for pre-order on November 5, 2020.
Huawei nova 8 SE 66 W supports super fast charging, the phone has a 6.53 inch OLED True-color display on the front, four cameras on the back, a 16 MP selfie camera on the front, 64 MP, 8 MP, 2 MP and There are AI (artificial intelligence) cameras.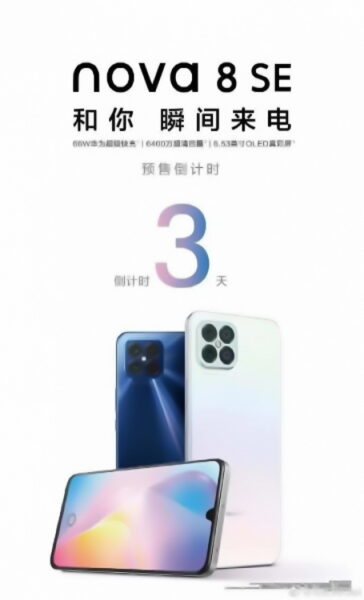 178 grams weight, 7.46 mm thickness, the standard version will be powered by MediaTek Dimensity 720 processor, and the upper version will be the MediaTek Dimensity 800U processor.
The screen resolution will be FHD +.
Huawei nova 8 SE, 3800 mAh battery capacity will reach full charge in 30 to 40 minutes. There is a fingerprint reader sensor embedded in the screen.