Huawei has released HarmonyOS 2
2021-06-02
0
By
Huawei
&nbsp &nbsp

&nbsp &nbsp
Follow @huaweinewos
Tweet to @huaweinewos
On the evening of June 2, 2021, at the HarmonyOS 2 launch conference, Huawei officially launched a series of new products equipped with HarmonyOS 2. Hundreds of devices such as Huawei Watch 3 series and Mate X2 MatePad Pro and other mobile phones, smart watches, tablet products are planned to be upgraded to HarmonyOS 2 in the first half of next year.
Yu Chengdong, Executive Director and CEO of Huawei's Consumer Business, said at the press conference: "In the age of the Internet of Everything, no one will be an island. Every person and every device is part of the Internet of Everything. Collaborating with more partners and developers. Together we will enrich Hongmeng ecology and provide global consumers with better experience, better products and better services."
Can HarmonyOS replace Android and iOS?
Thirty years ago, the Windows operating system, represented by Microsoft Windows, was released and opened the personal computing era by allowing personal computers to enter thousands of homes. It can't replace Android and iOS right away, but Huawei will have to work hard to replace Android and iOS.
With the emergence of the Internet of Everything era, various IoT devices will have more diverse forms, and at the same time, the development of various intelligent terminal device operating systems and ecological cooperation work in a fragmented state will be huge and complex. But in this regard, HarmonyOS is progressing very fast.
HarmonyOS is essentially a mobile phone operation that connects cars, smart speakers, wearables, and home appliances. In other words, it can be installed on more devices than Android and IOS.
Unlike the mobile operating systems of iOS and Android, HarmonyOS is a future-proof, full-scene distributed intelligent operating system. The Daily Business News correspondent noted that to accelerate the introduction of HarmonyOS, Huawei donated all the core core capabilities of its smart terminal operating system to the Open Atom Open Source Foundation in 2020 and 2021 and is funded by Open. Atom Open Source Fund The OpenHarmony open source project will be created by integrating the contributions of other participants.
Looking around the world, in addition to Huawei, Google and Apple have also proposed related solutions for the Internet of Everything. Among them, the open source operating system developed by Google is called Fuchsia, unlike the Linux kernel used by Android. It uses Google's new microkernel Zircon which can be adapted to various hardware terminals. In a microkernel system, only the most basic timing of the kernel, memory management, driver, filesystem etc. user mode is enforced by daemons. The advantage is that it is super stable and does not require high memory size and chip performance. "The microkernel architecture adopted by Fuchsia points the direction for future development of the entire operating system, but it is not a distributed design that (causing) performance is not good enough," Everbright Securities wrote in a research report.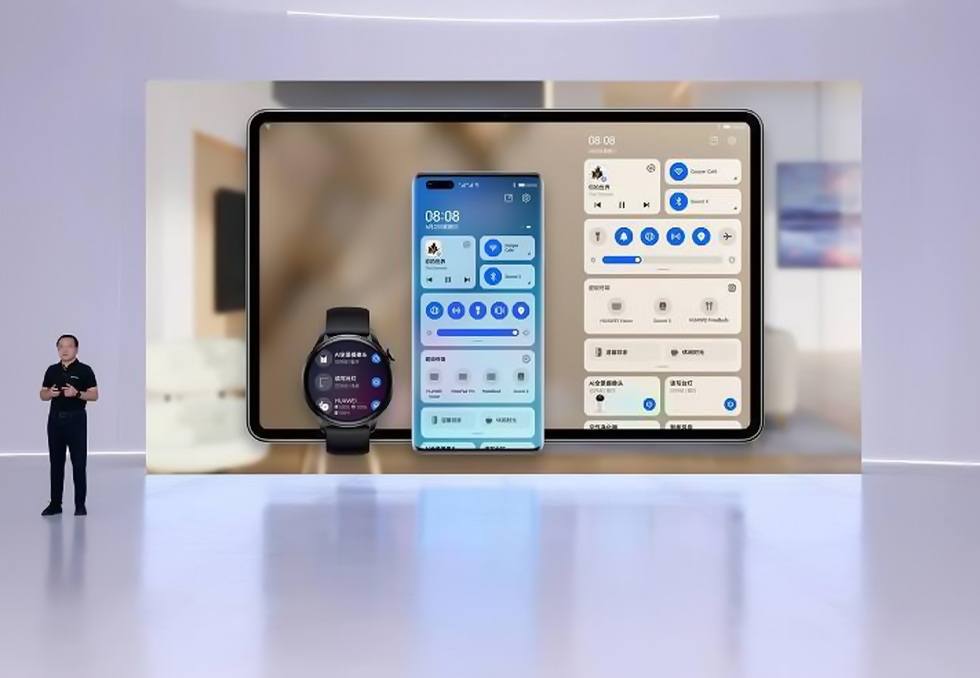 Huawei has been continuously improving its ecosystem in recent years, as the development roadmap of HarmonyOS has become clear. The 2020 annual report shows that Huawei's global terminal connections exceed 1 billion, of which the number of mobile phone users exceeds 730 million. About 90% of Huawei's mobile phones in stock and on sale can be upgraded to HarmonyOS. By the end of 2020, the HMS ecosystem has become the third largest mobile app ecosystem in the world, with more than 2.3 million registered developers worldwide, including 300,000 overseas developers; More than 120,000 HMS Core applications have been integrated worldwide, and the number of applications abroad in the Huawei application market This is more than 10 times increase compared to 2019.